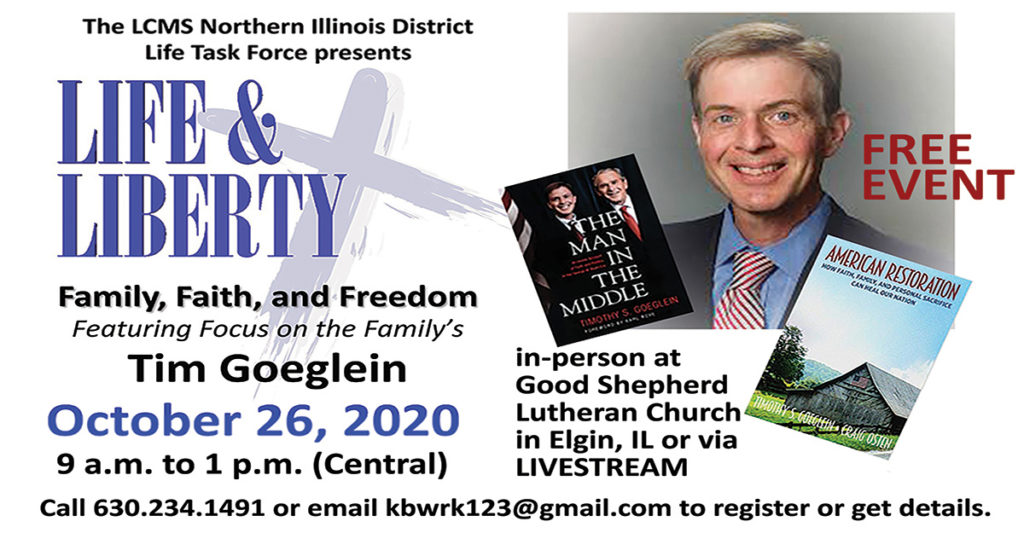 The LCMS Northern Illinois District Life Task Force presents Life & Liberty: Faith, Family, and Freedom featuring Focus on the Family's Tim Goeglein on October 26, 2020, from 9:00 a.m. to 1:00 p.m.at Good Shepherd Lutheran Church, 195 Nesler Rd, Elgin, IL 60124. Livestream participation is available for the FREE event, but registration is required.
Tim, former special assistant to President George W. Bush, is the author of The Man in the Middle: Faith and Politics in the George W. Bush Era and American Restoration.
To register or get details, contact Kris Blackwell at 630-234-1491 or kbwrk123@gmail.com.
The NID Life Task Force has formally accepted the following mission statement:
Affirming God's Will to create and sustain mortal life in the anticipation of Life in Christ, The Northern Illinois District Life Task Force's mission is to connect with church workers and their congregations by presenting unique educational and outreach opportunities about the reverence of life from conception though natural death.
For more information about opportunities for affirming life in your congregation, contact your circuit life counselor or Rev. Craig Meissner.
For more information, visit nidlcms.org/life-task-force.