Don't let your excellent school be the best kept secret in your town. Get the word out to the community that your school offers a great Christian education, has dedicated and well trained teachers, a safe environment, and so much more. Most importantly, your students learn about Jesus every day!
Please identify the person or people on your staff that serve in a marketing/admissions position and strongly encourage them to attend this Northern Illinois District School Marketing Seminar on Tuesday, September 12, 2023 from 9:00 a.m. to 2:00 p.m. at Bethany Lutheran Church and School, 1550 Modaff Road, Naperville, IL 60565. Your key person could be, but not limited to: admissions director, school administrator, school administrative assistant, second grade teacher, etc. This seminar is for whomever does the key work in admissions and marketing.
You will be encouraged and uplifted from presentations by: Ann Ciaccio, Director of Communications, LCMS Northern Illinois District; Sofie Dzik, Admissions Director, Immanuel Lutheran Church and School, Palatine; Linda Fox, Admissions Director, Bethany Lutheran Church and School, Naperville; and Victoria West, Admissions Director, Trinity Lutheran Church and School, Tinley Park.
A couple of items to remember:
Wear school spirit wear
Bring 20 copies of the school's enrollment materials
Questions should be directed to Lois.Stewart@nidlcms.org.
The cost for the day is $25.00 which includes lunch. Online payment is strongly encouraged.
Registration deadline is September 6, 2023.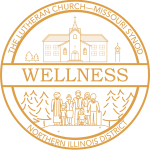 The work of this seminar fits hand-in-hand with the LCMS Northern Illinois District's mission pillar of WELLNESS: Promoting and encouraging health and vitality in congregations, schools, ministries, professional workers and lay-leaders.