What is ethnic ministry in the NID?
"After this I looked, and behold, a great multitude that no one could number, from every nation, from all tribes and peoples and languages, standing before the throne and before the Lamb, clothed in white robes, with palm branches in their hands…" —Revelation 7:9 (ESV)
Ethnic ministry means the privilege of our participating in what Jesus is already doing to usher in his Kingdom. Christ's commission is to "make disciples of all nations" (Matt 28:19). The word nation here is where we get the word ethnic.
In Revelation (5:9; 7:9) we see an intercultural assembly of believers which includes all the diversity of humankind for whom Christ died and rose again. This worldwide movement was first promised to Abraham whose descendants (as the people of God) would bless all the families of the earth (Gen 12:3).
Certainly, to participate in Gospel ministry is ethnic ministry because we are all part of that diverse multitude whom the Holy Spirit gathers. But many of us find ourselves in rapidly changing communities and know that we need to grow in our ability to communicate the unchanging Gospel inter-culturally and in various languages. We need each other's prayerful encouragement, support, creativity, risk and wisdom. Ethnic ministry is about intentionally working toward the realization of God's desire that "all people be saved and come to the knowledge of the truth" (1 Tim 2:4).
Help. Encourage. Support.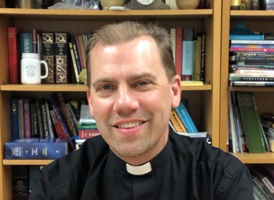 Ethnic Ministry is the story of how we, as a district, started off being intentional about reaching people of German ancestry and Lutherans and how wildly successful we were at that, and how, pretty much since the baby boom generation, we [no longer] have the same sort of neighborhood loyalty, loyalty toward the denomination that we were capitalizing on. We need to continue to learn how to reach out to our communities that are in transition.
In Summer of 2019, Rev. Dr. Tom Johnson took on the role of Ethnic Ministries Development for the LCMS Northern Illinois District. If you are serving an ethnic ministry, or would like to learn how best to serve, contact Rev. Johnson at tom.johnson@nidlcms.org. Through our work together we can share the vision, the challenges, the victories, and the mission!
Northern Illinois District has renewed commitment to Ethnic Ministries, as evidenced by a recent gathering of nearly 50 interested individuals. The gathering occurred under the leadership of Rev. Dr. Tom Johnson.
The Northern Illinois District continues to support Hispanic ministry through Enviando. Pastor Johnson also is cultivating a broader concept of ethnic ministries. Pastor Johnson says, "Ethnic ministry is about intentionally working toward the realization of God's desire that 'all people be saved and come to the knowledge of the truth'". (1 Timothy 2:4)
Support this movement. This multi-ethnic Gospel movement should be worked toward, nurtured, and celebrated in the communities we serve because of Christ's command and vision.
President and Mrs. Buss are committed to ethnic ministry both in prayer and financially. We invite you to join them and bless ethnic ministry in the LCMS Northern Illinois District with your prayers and financial resources. We invite you to participate in helping to expand ethnic ministry. Our workers, congregations, schools and the laity of NID are committed to do the work our Savior has given us. What Christ gives us to do, HE blesses! What a joy to see new opportunities and to commit ourselves to what He has been doing among us for many years.